On our second day in Vilnius, actually the first whole day we had it was time to discover the history of Vilnius. We did it with a free walking tour, or as they are called here with the yellow suitcase tour. It was great!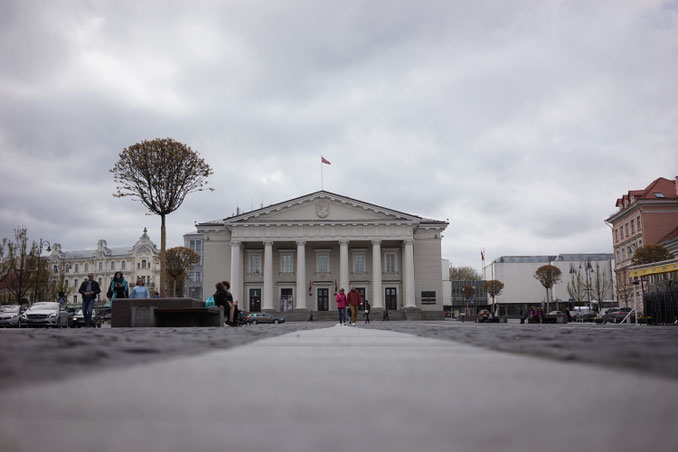 On our tour through the a little bit more than half a million populated town we learned, that the people of Lithuania and especially the people of Vilnius had been really proud the day they joined the NATO and for that the former US president George W. Bush visited Vilnius and held a rather unique speech, at least they thought so. Thats why there is a big sign honoring that moment on the wall of their town hall, with the key sentence George W. Bush said printed on. Later they learned that George W. Bush had given the almost identical speech to several nations...
According to our guide the Lithuanian flag, which most of the people probably would place to an african or south-american country, has a specific symbolism to it. The yellow stands for the sun, or as she said mostly for the wish of sun. The green layer represents the all the green parts with a lot of parks in Vilnius and a lot of forests all over Lithuania. The red part on the bottom of the flag symbolize the blood of all Lithuanian people who died during the several independent  fights. Or you could just say the Lithuanian flag adds a bit of color to the rest of Europe.